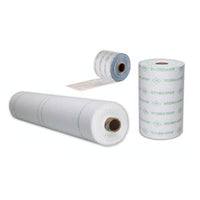 HydroStop Fabric
Reinforcing material to increase long term strength
Use with Hydrostop Foundation Coat, BarrierGuard, Buttergrade, etc
Easily conforms around penetrations
$48.43
Free Shipping in Continental USA
What is HydroStop Fabric?
HydroStop Fabric is the first layer of the HydroStop PremiumCoat System. Used in conjunction with the HydroStop Foundation Coat and the HydroStop Finish Coat.
HydroStop Fabric is a 100% polyester reinforcement for penetrations. 
Easily conforms around penetrations and improves strength.
Improves strength while maintaining flexibility.
HydroStop Premium Coat System is a roofing and water-proofing solution for coating, recovery, reroof and new roof applications. It provides a fully-adhered, breathable acrylic membrane for a variety of existing roof substrates.
Roof substrates: Metal (historic or commercial) roofs, flat and low-pitched roofs, BUR, structural concrete, EPDM, Hypalon, modified bitumen, PVC, and TPO roofs, as well as parapet walls and exterior walls
Water-based acrylic base coat.
Seamless and self-flashing
Why HydroStop PremiumCoat System?
Decrease energy costs with available highly reflective top coat.

Provides advanced water proofing and protection against extreme weather events such as hail, high winds and rain.

Can be installed over a variety of roofs without the need for a complete tear-off eliminating associated cost and waste.

No heavy equipment and minimal tools required.