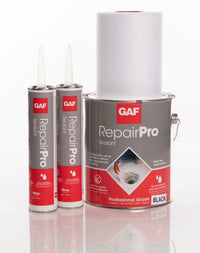 GAF Repair Pro Sealant
Flashing Grade: can be used with or without fabric reinforcement.
No Mixing!
Can be applied to most damp surfaces.
Upon request pallets can be a mix of white & black.
$19,801.64
Free Shipping in Continental USA
RepairPro Sealant is a solvent-based synthetic, self-leveling, elastomeric sealant that can be applied to many low-slope roof surfaces. It is durable and ideal for use on emergency repairs and maintenance applications.
APPROVED SUBSTRATES
RepairPro Sealant can used on metal, structural concrete, copper, SBS, APP, EPDM, BUR, and TPO. It can also be used with GAF Premium Fabric on penetrations, curbs, and seams. Do not use over silicone substrates.
PACKAGING SIZES
10 oz. (0.3 liter) tube 1-gallon (3.8 liter) bucket
STORAGE & SHELF LIFE
PRODUCT STORAGE TEMPERATURE: 50°F – 90°F (10°C – 32°C)
Do NOT allow sealant to freeze. SHELF LIFE: 24 months from date of manufacture in unopened containers, if stored properly.

APPLICATION INSTRUCTIONS
SUBSTRATE PREPARATION: All surfaces to be sealed must be clean and free from oil, grease, and any foreign matter. Excess water should be removed, if possible, before application.

MIXING: Do NOT attempt to thin or self-tint.

APPLICATION
RepairPro Sealant may be applied by brush, or trowel. Apply to repair areas at a minimum wet thickness of 1/8" and spread at least 3" in all directions from the affected area.

WARRANTY
See GAF RepairPro Sealant 1-Year Limited Warranty at gaf.com for complete coverage and restrictions.

LIMITATIONS & PRECAUTIONS
APPLICATION AIR TEMPERATURE:
Min. 40°F (5°C). Do NOT heat containers.

APPLICATION SURFACE TEMPERATURE:
40°F - 110°F (5°C - 43°C). Cool temperatures/high humidity may slow curing.

SAFETY & HANDLING
For specific information regarding safe handling of this material, please refer to the Safety Data Sheet (SDS).

CLEAN UP
Use mineral spirits or xylene to thoroughly flush equipment.