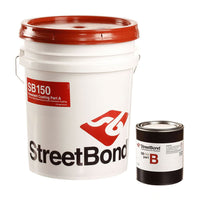 StreetBond 150 Part A+B Kit (A 4.1 gal / B 1 qt.)
Transform and Protect Asphalt and Concrete Surfaces Such As:
- Plazas & Community Areas
- Crosswalks, Cycle Lanes, and Bus Lanes
- Urban Renewal Projects
- Playgrounds
- Residential Driveways
Environmentally Friendly
- Water Based Acylic Coating
- Safe and easy to apply with Low VOCs
- Reflective Coatings Reduce Heat Islands
- Skid Resistant and Color Stable
$435.68
Free Shipping in Continental USA
High-Performance Coating for Asphalt & Concrete Pavement
StreetBond® SB150 Pavement Coating is a two-component water-based epoxy-modified acrylic coating for both pedestrian and vehicular pavement surfaces.
Developed for use over imprinted or flat pavement surfaces, mix StreetBond® 150 Pavement Coating Part A and B and apply to asphalt directly or concrete with proper primer. StreetBond will provide both an enduring and a low-maintenance surface that helps protect and extend the life of the pavement.
Add StreetBond® Colorant (part C) for unlimited possibilities to create your desired aesthetic. 

Benefits of StreetBond® SB150 Pavement Coatings include:
---
Flexible

:  Unlike most pavement coatings, StreetBond® SB150 Pavement Coating works with the normal expansion and contraction of asphalt surfaces and will not peel, delaminate, or shrink-crack (when installed per manufacturer's installation specifications)*
Durable:  StreetBond® SB150 Pavement Coating is tough enough to withstand traffic wear, highly resistant to water damage, and has excellent adhesion characteristics that outperform other decorative pavement coating products*
Environmentally Responsible:  StreetBond® SB150 Pavement Coating is non-toxic, fully recyclable, and water-based; it has very low volatile organic content (VOC) and meets Southern California Air Quality Management District regulations (SCAQMD), the most stringent environmental air pollution regulations in the U.S. 
Chemical Resistant:  StreetBond® SB150 Pavement Coating is resistant to damage and deterioration when exposed to fuel, engine oil, and deicing agents*
Color Stability:  StreetBond® SB150 Pavement Coating incorporates UV-stable pigments that are fade-resistant when exposed to harsh sunlight*
Friction:  StreetBond® SB150 Pavement Coating has excellent friction properties, resulting in slip- and skid-resistant colored pavement surfaces that exceed all government-regulated vehicle skid-resistance requirements*