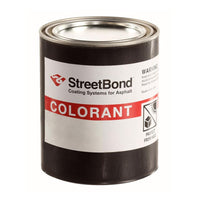 StreetBond Colorants - Cycle Lane (1 pint)
These bold, highly reflective colors are designed
to delineate public cycle lanes and intersections, helping to keep cyclists safe and reinforce priority to bicyclists by visually alerting drivers to the presence of a cycle lane.
Cycle Lane Colors are also used in the coating of off-street jogging/cycle paths, bus lanes, school zones, and parking lot markings.
- Water Based Acylic Coating
- Safe and easy to apply with Low VOCs
- Skid Resistant and Color Stable
- Extends the Life of Your Pavement
$131.54
Free Shipping in Continental USA
Use StreetBond Colorant as your part C to StreetBond® SB120 or StreetBond® SB150 Pavement Coatings.
StreetBond Coatings are available in 4 color palettes: Traditional, Signature, Solar Reflective, and specialty greens for Cycle Lanes.
Perfect For Crosswalks, Parking Lots, Medians, Traffic Circles, Pedestrian Areas, Driveways, Streetscapes, Playgrounds and more!
- Change the look & feel of a community with a coat of color.
- Enhance the open area or entrance of campus, civic center, or park.
- Keep cyclists safe and pedestrians safe by visually alerting drivers to the presence of cycle lanes and crosswalks.