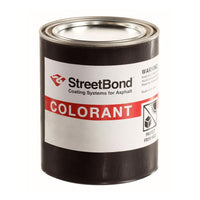 StreetBond Colorants - Solar Reflective (1 pint)
Solar-Reflective Colors use special technology designed to help cool high-traffic areas without limiting color choices to white or light colors.
Solar-Reflective Colors help reduce Urban Heat Island Effect and the temperature of asphalt surfaces while providing protection against UV damage and asphalt degradation. These colors are typically used in pedestrian and vehicular high-traffic areas such as parks, schools, playgrounds, and non-covered areas that experience direct sunlight.
- Water Based Acylic Coating
- Safe and easy to apply with Low VOCs
- Skid Resistant and Color Stable
- Extends the Life of Your Pavement
$117.68
Free Shipping in Continental USA
Use StreetBond Colorant as your part C to StreetBond® SB120 or StreetBond® SB150 Pavement Coatings.
StreetBond Coatings are available in 4 color palettes: Traditional, Signature, Solar Reflective, and specialty greens for Cycle Lanes.
Perfect For Crosswalks, Parking Lots, Medians, Traffic Circles, Pedestrian Areas, Driveways, Streetscapes, Playgrounds and more!
- Change the look & feel of a community with a coat of color.
- Enhance the open area or entrance of campus, civic center, or park.
- Keep cyclists safe and pedestrians safe by visually alerting drivers to the presence of cycle lanes and crosswalks.